Dumfries football academy is a winner with youngsters
Over 70 youngsters had a ball at a football academy in the north-west of Dumfries, supported by Wheatley Homes South and partners.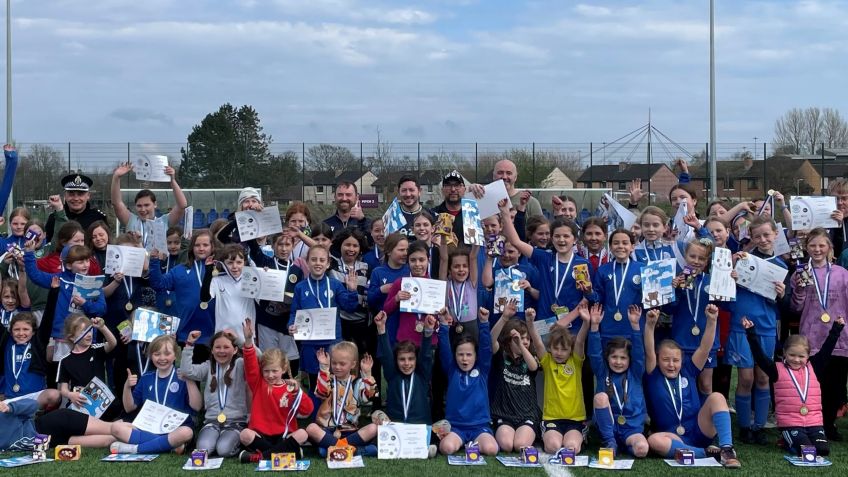 The event at the North West Community Campus in Lochside was organised by Dumfries Community Policing team and Queen of the South Ladies and Girls Football Club.
The two-day event for youngsters aged six-12 was part of a wider initiative aimed at tackling youth-related anti-social behaviour in the area.
The girls attending also watched presentations on internet and personal safety with community police officers, received fire safety tips from the Scottish Fire and Rescue Service and were taught basic first aid by the Scottish Ambulance Service.
It was supported and funded by Wheatley Homes South, part of Wheatley Group, Scotland's leading housing, care and property-management group.
Alan Glasgow, Managing Director of Wheatley Homes South, said: "It was great to see so many young people playing and enjoying themselves at this football academy in Lochside.
"We are working hard with partners to create safe and peaceful communities where people are proud to live and, through supporting this latest football academy, we were able to promote a safe space for young people while also giving them the chance to develop their football skills."
Chief Inspector Robin Ferguson, Dumfries Area Commander - Police Scotland, said: "My officers, in partnership with Queen of the South Ladies and Girls FC and Wheatley Group, hosted a 'Girls Only Football Academy' as part of Police Scotland's ongoing commitment to building safer communities.
"In all, over 70 girls of primary school age from across our area attended the two-day academy each day, developing their football skills and participating in presentations led by Community Police officers, Scottish Fire and Rescue, Scottish Ambulance Service and NHS colleagues around internet safety, road safety, personal safety, first aid and dental hygiene.
"It was clear that all the girls thoroughly enjoyed the event and I thank them, and our partners, who collectively made this a fantastic start to the Easter school holiday period."
Wheatley Homes South housing officers and Neighbourhood Environmental Teams, supported by Wheatley's Stronger Voices customer engagement team and its Community Improvement Partnership police and fire team, have been working side by side with the police and the Scottish Fire and Rescue Service to tackle anti-social behaviour in the north-west of Dumfries.
Friday, April 14, 2023